THE HISTORIC DOWNTOWN OF KINGMAN ARIZONA
Discover Downtown Kingman's Unique Charm When You Own a Piece of Timeless Beauty and Thriving Culture.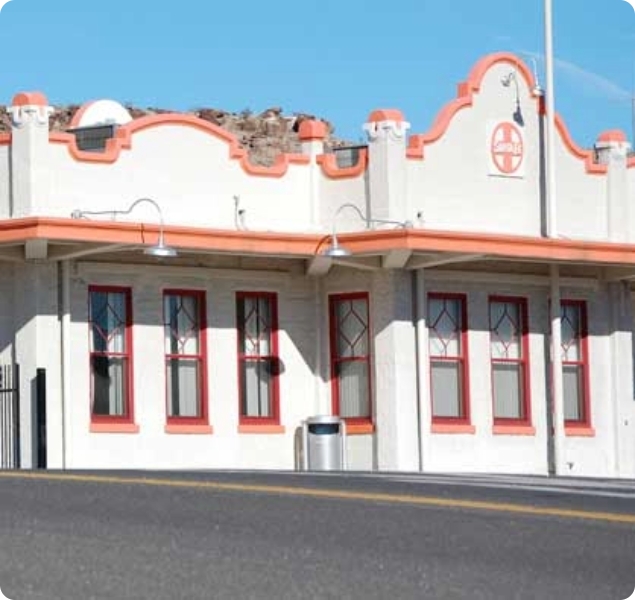 Step into a timeless realm of opportunity by discovering the allure of investing in property in historic downtown Kingman. The echoes of the past reverberate through the streets, where homes dating back to the 1800s stand as living testaments to a bygone era. From the architectural elegance of Queen Anne cottages and bungalow homes to the rustic charm of miner cabins adorned with wood porches, red brick, and adobe, this downtown enclave offers a visual tapestry like no other. The symphony of architectural styles, ranging from Neo Classical to Neo Colonial, creates an ambiance that is truly unique, reflecting the rich history of the area.
But the true magic of Historic Downtown Kingman is not just in its historical charm; it's a vibrant hub of culture and entertainment. Breweries (Black Ridge Brewery, Rickety Cricket, and the Grand Canyon Distillery), antique shops, wine bars, and restaurants line the streets, offering a diverse range of culinary delights. The Powerhouse Visitor Center, a major attraction, draws tourists and locals alike with its fascinating exhibits, showcasing the region's heritage and culture. The Electric Car Museum, a hidden gem, unveils the history of electric vehicles, adding to the area's uniqueness.
Railroad Park, adjacent to the train station, is the epicenter of fun and entertainment. It hosts festivals, parades, and unique shopping experiences throughout the year, bringing the community together in celebration. The Kingman Santa Fe Depot, a historic railway station, is a testament to the city's rich railroading history and an excellent starting point for exploring the area.
Museums, parks, and county/city buildings contribute to the district's vibrancy. Whether you seek the allure of quaint homes or the grandeur of statuesque Victorians, this district beckons with a nightlife that captures the essence of urban living. Don't miss your chance to be part of this remarkable revival – discover the investment potential in historic downtown Kingman today and become a part of the thriving culture and entertainment scene that makes this area truly special.
Active Listings In Downtown Kingman, AZ

Sorry we are experiencing system issues. Please try again.

Discover Available Rentals Today!
Unlock the Finest Rentals with Unmatched Variety! Choose Kingman Premier Properties for the Ultimate Selection and Exceptional Living Spaces.
Let's get you on the road to an amazing property.
Leave us a message or give us a call to find out more about properties in Kingman, Golden Valley, Bullhead City and the Meadview areas!