THE LEGENDARY ROUTE 66 OF ARIZONA - NORTHBOUND
Invest In Property Along Legendary Route 66 - Northbound, Where Nostalgia and Investment Converge.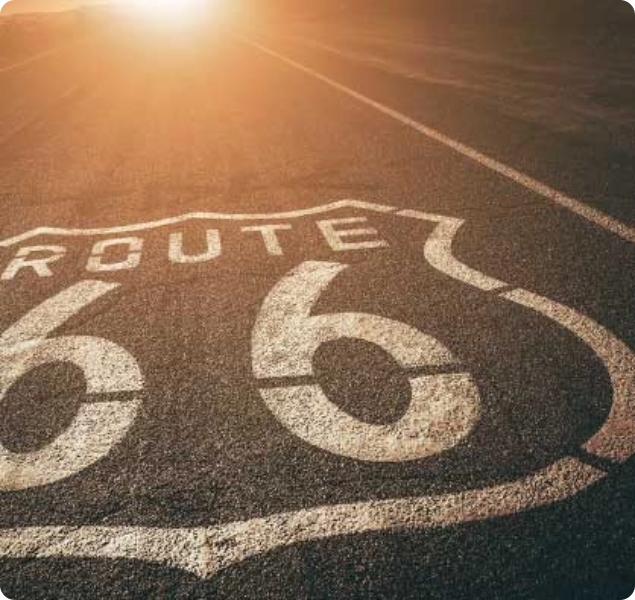 Embark on an extraordinary journey along the fabled Route 66 - Northbound in Arizona, where history and investment opportunities intertwine seamlessly. This iconic stretch of road transcends being just a highway; it is an avenue to own a slice of the enduring American spirit.
Investing in properties along the legendary Route 66 - Northbound is your chance to connect with a legacy that traverses generations. Picture yourself surrounded by the whispers of a bygone era, as you pass through quaint, character-rich communities such as Valle Vistas, Hackberry, and Peach Springs.
Owning a part of this storied route means possessing not just real estate but a tangible link to American history and heritage. Each twist and turn along the road holds a unique narrative, and every mile is steeped in the past. Venture forth and claim your stake along this iconic route, becoming a guardian of its timeless allure.
Valle Vista: Nestled within the majestic landscapes of Arizona, Valle Vistas offers breathtaking natural beauty. Imagine waking up to panoramic views of the Cerbat Mountains and exploring the picturesque Valle Vista Golf Course.
Hackberry: Known for its vintage charm, Hackberry is a must-visit on Route 66 - Northbound. The Hackberry General Store is a historic landmark where you can step back in time and relish in the nostalgia of a bygone era.
Peach Springs: Located on the Hualapai Reservation, Peach Springs is a captivating destination rich in Native American culture. Here, you can explore the awe-inspiring Grand Canyon Caverns and delve into the depths of the earth's history.
Seize the opportunity to become a part of history along Route 66 - Northbound. Secure your place in the annals of this legendary route, where nostalgia meets lucrative investment potential. This is not just an investment in property; it's an investment in the very soul of America.
Discover the thrill of Route 66 - Northbound and own a piece of American history.
Active Listings In Northbound 66

Sorry we are experiencing system issues. Please try again.

Discover Available Rentals Today!
Unlock the Finest Rentals with Unmatched Variety! Choose Kingman Premier Properties for the Ultimate Selection and Exceptional Living Spaces.
Let's get you on the road to an amazing property.
Leave us a message or give us a call to find out more about properties in Kingman, Golden Valley, Bullhead City and the Meadview areas!